November 30, 2015
Comments Off

on SpaceCrafts: Making a Hubble Space Telescope Costume
You may have seen our recent blog post by a high school friend of Maggie's who helped her son make a James Webb Space Telescope costume for Halloween this year. When the Schoellners put together a Hubble costume, we had to ask them for a "how to" – so now we have the matching set of JWST and Hubble! Dirk Schoellner and his family are no stranger to space costumes, or to JWST – in fact they did a JWST costume and accompanying blog last year! We hope you enjoy all these different "making of" blogs – if you do your own space costume, be sure to tweet at us (@NASAblueshift) or use our contact form to get in touch! -Maggie & Sara
---
Making a Hubble Space Telescope Costume – by the Schoellners
A couple of years ago, our oldest son, Eric, decided to be the Curiosity Rover for Halloween. While there were some challenges to the costume design, the experience lead us to an unanticipated family tradition of homemade space costumes for Halloween. This year, while considering costume ideas, our 10 year old, Brian, was inspired by the Hubble's 25th anniversary, meeting NASA's Amber Straughn, and a Jimmy Fallon Hubble shout-out video from 2010. As with previous years, most of the costume components were scavenged from our basement junk and craft closet, and the kids were heavily involved in the planning and construction.
Hubble's most notable features consist of a large silver cylinder and two solar panels. To create a wearable cylinder body, we started with a kids' hiking frame backpack, and attached a tomato cage with wire ties to create the shell. Brian was quite excited when he realized that the frame backpack, designed to carry camping supplies, could hold nearly unlimited amounts of candy during the final mission. After attaching the tomato cage frame, we make sure there was plenty of clearance for leg movement while climbing and descending steps, as we learned with the Curiosity costume previously that steps can be treacherous in the dark and excitement of trick or treating.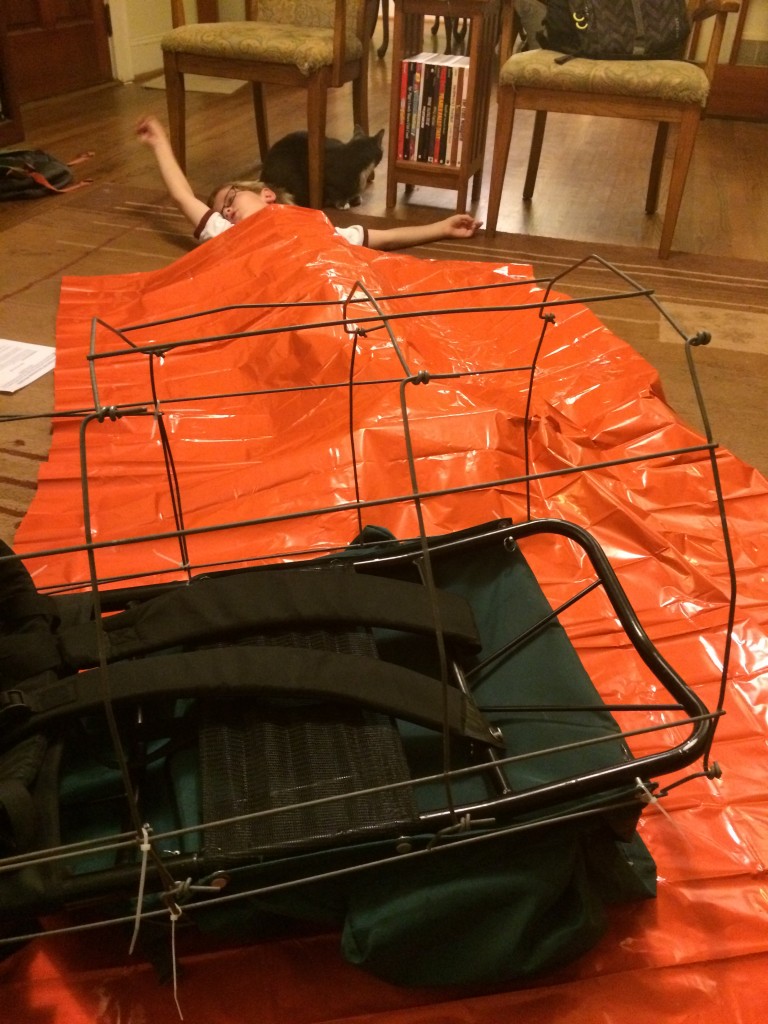 In order to create the silver heat shield, we splurged and purchased a thermal Mylar blanket from an Army/Navy surplus store for $8. In addition to proving much more durable than our original plan of aluminum foil, the thermal blanket kept Brian nice and warm during trick or treating. We simply wrapped the blanket around the backpack, secured it to the metal frame from the inside using duct tape, and then trimmed to the right length. To create openings for arm holes, we found we had to reinforce the cut edges with duct tape to prevent tears from propagating.
With a wearable metalized cylinder complete, we began building the aperture door and solar panel arrays. To keep the weight down, we built both out of 1/4″ foam poster board left over from a fourth grade science fair presentation. We covered the aperture door with the remaining thermal blanket remnants, while for solar panel arrays we simply printed out images of a solar panel and used spray adhesive to attach the prints to the foam board. We then slid a dowel rod through the costume at shoulder height, secured it to the backback with wire ties, and attached the solar panels to it with duct tape.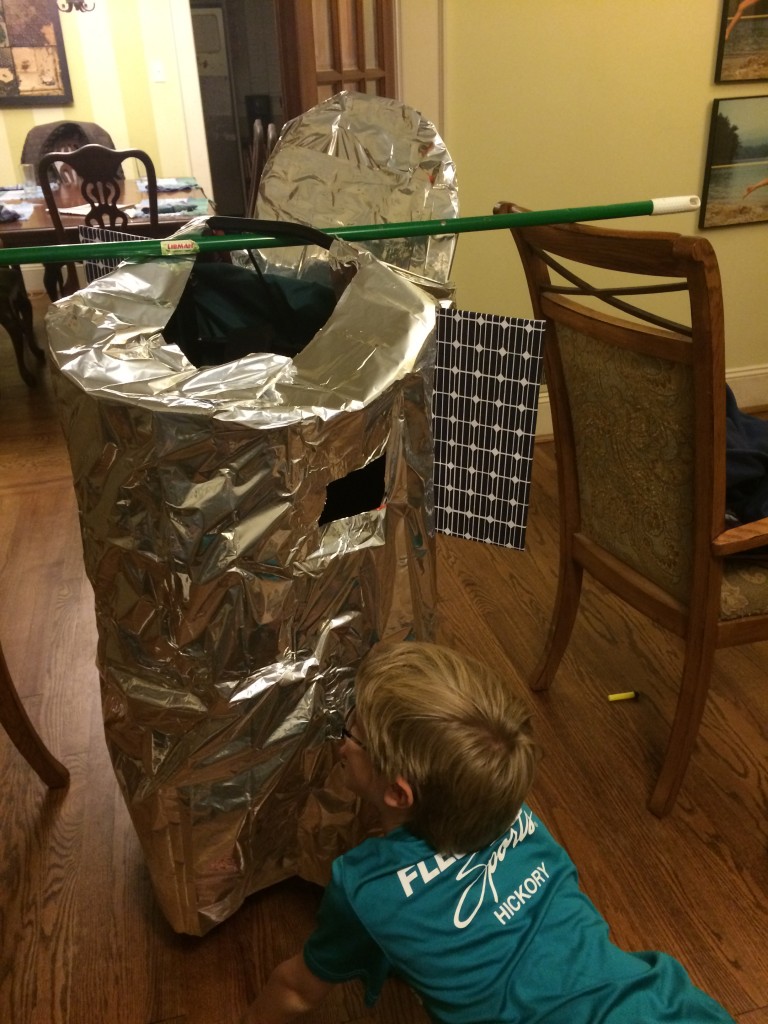 Finally, since NASA costumes sometimes aren't as familiar to the Halloween public as we think they should be, we've found that prominent labels are quite helpful. Labels for most costumes are readily available on NASA websites and can be printed and attached to costumes. In addition, electroluminescent wire makes for a costume that's easy to find and read in the dark, adding both some safety as well as creativity.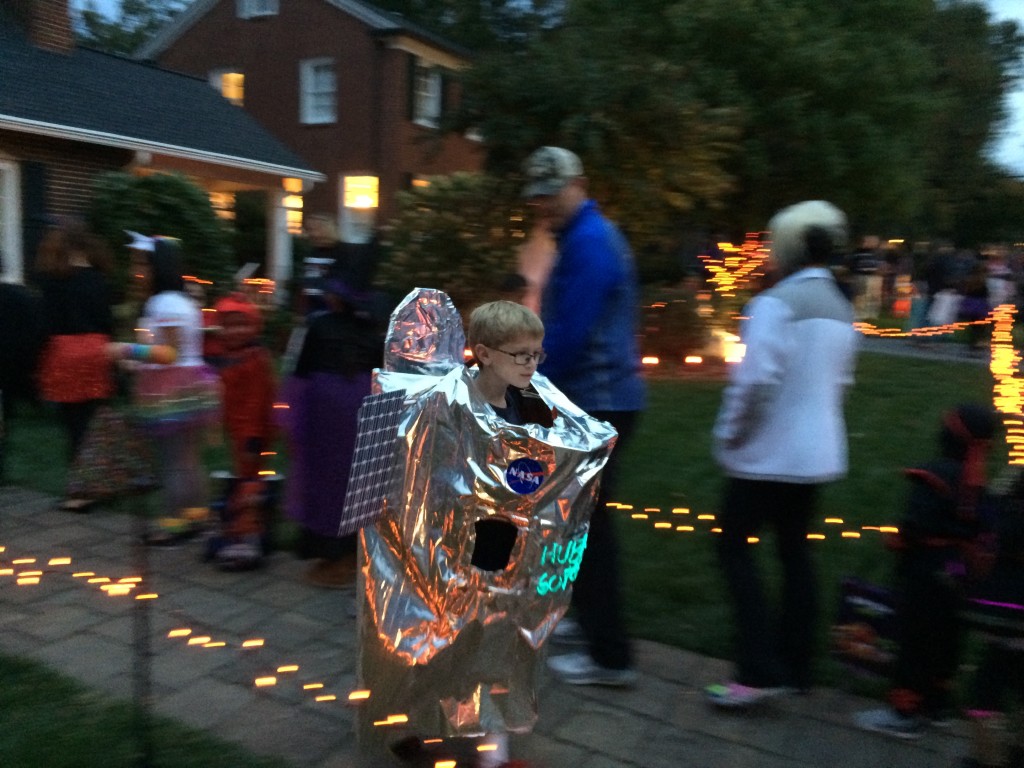 Building Halloween costumes can be a fun family experience, teaching kids both creativity and engineering while working with found materials to develop unique costumes to suit their interests.
[Note: All photos credit "The Schoellner Family"]