Welcome to Blueshift, produced by the Astrophysics Science Division at NASA's Goddard Space Flight Center in Greenbelt, Maryland.
Our podcasts, blogs, and downloads are your "backstage pass" to the science, missions and people here at Goddard – we'll fill you in on groundbreaking discoveries, innovative technology, new missions, and other exciting stories. Check back regularly for updates, and send us your questions and comments! You can either send us a comment via our feedback form (linked above on our main menu), or you can find us on Facebook, and on Twitter as @NASAblueshift.
Who is NASA Blueshift?
Blueshift is produced by a team of contributors in the Astrophysics Science Division at Goddard.  Started in 2007, Blueshift came from our desire to make the fascinating stuff going on here every day accessible to the outside world.  Sara Mitchell leads the organizational and production efforts.  Both she and her henchperson, Maggie Masetti, serve as primary podcast hosts, interviewers, bloggers, and editors. We also have a number of guest bloggers, from scientists to summer interns.  We welcome guest contributors to our podcasts and blogs from within the Astrophysics Science Division – and beyond!

(Sara and Maggie at a tweet-up at NASA HQ.)
---
 Sara Mitchell, Evil Genius – Sara Mitchell is neither an astronaut nor a rocket scientist, so she's pretty excited that her role as a "translator" in NASA's education and outreach programs gives her access to both. Younger than Voyager and older than Hubble, Sara grew up daydreaming under the swirling heavens at Louisiana State University's planetarium. She's passionate about making astronomy fun and accessible to a variety of audiences, and collaborates on several projects at NASA Goddard Space Flight Center in Greenbelt, MD, to engage and educate people of all ages. Sara appreciates the fact that doing educational work allows her to indulge her own desire to continue learning – meeting interesting people, going new places, and finding out about all of the weird and wonderful things going on in space science. She has a "cosmic bucket list" of space-related things to see and do, like experiencing a full solar eclipse, seeing the aurorae, visiting a place with 24-hour days (or nights), and taking a flight on the zero-g "vomit comet." In her not-so-copious spare time, Sara enjoys zombie movies, board games, and potentially dangerous kitchen experiments. She drinks her tea with plenty of honey and would be happy to engage you in a debate about the best episode of Buffy the Vampire Slayer or tell you the origin story of her olfactory superpowers. View Sara's blog entries.

Maggie Masetti, Partner in Crime – Maggie Masetti went to Space Camp in high school, but thinks that working at actual NASA is way cooler than just pretending to –  even if she's not an actual astronaut.  In the years since her college internship at NASA Goddard, she's put her astrophysics degree to work doing education & outreach for missions both big (the giant infrared James Webb Space Telescope) and small (the small Rossi X-ray Timing Explorer).  Currently she's the social media lead and website manager for JWST, which she name drops into Blueshift whenever she can because it's awesome, and not just because that's part of her job! Outside of work, Maggie writes science fiction short stories, plays guitar and sings in a local band (fun fact, Naked Singularity wrote and recorded Blueshift's podcast theme song!), and is working on her fluency in Norwegian. (She has seen the midnight sun from Norway, but not aurorae. Yet. And yes, she can tell you all about JWST in Norwegian as well as English!)  View Maggie's blog entries.
Current Guest Bloggers: (alphabetically)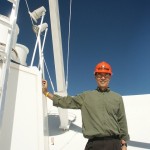 Koji Mukai – Koji has worked for a series of Japan-US X-ray astronomy satellites at Goddard Space Flight Center. Koji and his fun bunch of collaborators study binary systems with a white dwarf, using ground-based optical, infrared and radio telescopes (Koji himself is not a radio astronomer but maybe he can play one on… radio) and space-based UV and X-ray astronomy satellites. Outside of work, he's a classically untrained pianist and an uncompetitive cyclist (he does not dope, unless strong coffee counts as one). He fled Japan to escape from mangas and animes and all other aspects of Japanese pop culture. View Koji's blog entries.
Jasmin Evans – Jasmin is a Physics and Astronomy undergraduate at the University of Central Lancashire in the UK. She is an avid science communicator and was lucky enough to visit NASA Goddard and work with the Astrophysics Science Division education & outreach team for a week in August 2015. Between cups of coffee she can be found studying, building Meccano, running from cupcakes and trying to work out how to become the real Tony Stark. View Jasmin's blog entries.
Past Guest Bloggers: (alphabetically)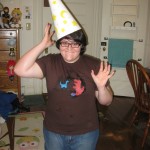 Jillian Brown – Jillian was at Goddard in the summer of 2012 compiling educational resources about exoplanets, her favorite thing in the literal universe, and wrote about them for Blueshift as well. She is a senior at Mount Holyoke College where she is a history major and astronomy minor, and loves helping people get enthusiastic about the sciences (but astronomy especially). If not thinking about the sciences and getting emotional about the amazing wide universe we live in, she is probably sewing costumes, crocheting stuffed animals, or drowning in her own nerdhood with tabletop games, video games, and science-fiction television. View Jillians's blog entries.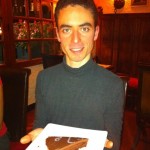 Umberto Cannella – Umberto has always been curious about the "why" of things, too curious for how much his parents could take at the end of a working day; unfortunately they pretty much had to bear him until college, when he enrolled into a physics degree. This brought Umberto to follow his passion for science outside Italy: first Switzerland, where he could visit CERN and deepen his appreciation of chocolate, then the US where, through the University of Maryland, he could start interacting with the people working at NASA Goddard. He likes to spread as much fascination about science and physics as he can, so please stand him patiently. If also the next one of his dreams turns into reality you'll see him leaving Earth in an alien spaceship. View Umberto's blog entries.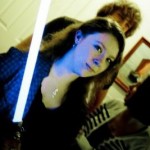 Alexe Helmke – Alexe Helmke came to Goddard during the summer of 2012 to channel her love of astronomy education into Blueshift and other projects. She recently graduated from Whitman College (like Faith Tucker) with a combined major in astronomy and physics. When not working, Alexe is probably looking up random astronomy facts, reading a good book while drinking tea, or watching one of many sci-fi television shows on Netflix. Alexe hopes to work at a science museum to encourage people to be excited about science while showing them how awesome and cool learning is no matter how old you are! View Alexe's blog entries.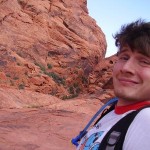 Jason McCracken – Jason McCracken came to Goddard as an intern for the summer of 2013 to throw his passion of space and physics at Blueshift. Originally from Rockford, IL, Jason studies physics at Montana State University, Bozeman and spends most of his time running shows at the Taylor Planetarium and traveling across Montana with the Space Public Outreach Team. On a typical afternoon he enjoys his tea while playing table top games with his cabal of nerds. Some of his non-typical afternoons involve hunting zombies (with Nerf guns), rock climbing, and the occasional gaming convention. His plans for the future include (and are not limited to): a degree in astrophysics, owning a tea shop, and meeting Felicia Day. View Jason's blog entries.
Elvia Ramirez-Vidal – Elvia came to Goddard in the summer of 2013 to help outreach to the Spanish-Speaking audience interested in the James Webb Space Telescope, as well as Blueshift. Although from Washington, D.C. and naturally interested in a political science degree, her curiosity on space matters stems from a very young age. To say Galileo was her idol for most of her childhood would only be scratching the surface! Once fall 2012 came along and she enrolled in an Honors Physical Science Colloquium class, she knew her spark had reignited and it made sense for her to apply to the NASA internship program once the information was presented at her. Combining her love for languages, science and politics has been very exciting and when she's not talking about those three you can find her at a concert, at home reading or having food adventures! View Elvia's blog entries.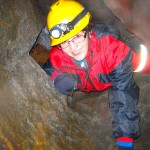 Christina Richey – Christina blogged for Blueshift while she was a NASA Postdoctoral Program Fellow at Goddard Space Flight Center in the Astrophysics Science Division, studying interstellar dust grain analogs. When not ruling the cryogen world that is the Optics Lab, she likes to take long walks on the beach, crawl through lava tubes, dress up like a zombie, dye her hair random colors, and worship the ground that Bieber walks on, because that's what her niece said is the cool thing to do. View Christina's blog entries.
Amber Straughn – Amber Straughn is an astrophysicist at Goddard, studying how stars form in distant galaxies using data from the Hubble Space Telescope (Hubble Gotchu!). When not astrophysicist-ing, she works with the James Webb Space Telescope project, where she does outreach and communications, and works with the Astrophysics Science Division E/PO team. Outside the NASA gates, Amber enjoys yoga, cooking, and politics (though not all three at once). View Amber's blog entries.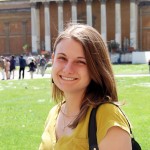 Faith Tucker – Faith came to Goddard for the summers of 2010 and 2011 to work with the Blueshift team (and to collect as many free NASA goodies as humanly possible). Faith recently graduated from Whitman College, located in the quaint town of Walla Walla, WA, where she double majored in astronomy and religion. When not interning at Goddard, Faith can be found giving planetarium shows to local awe-inspired elementary students, listening to her audiobook of The Hitchhiker's Guide to The Galaxy on repeat, and devising a foolproof scheme to get to Cape Canaveral to view the last shuttle launches (mission accomplished!). Now that the blissful years of college have come to an end, Faith hopes to further explore her love of astronomy through educating others about the wonders of the universe! View Faith's blog entries.