November 18, 2015
Comments Off

on A Visit From Germany
Daniela Schnauder and Verena Wechsler are visiting Goddard from Germany, for an internship via Airbus Defense & Space. They will be contributing several guest blogs to Blueshift while they are here. And, they'll be blogging in both English and German. Here is their introduction. You'll find the English first – scroll down further if you'd like to read it in German! -Maggie & Sara
---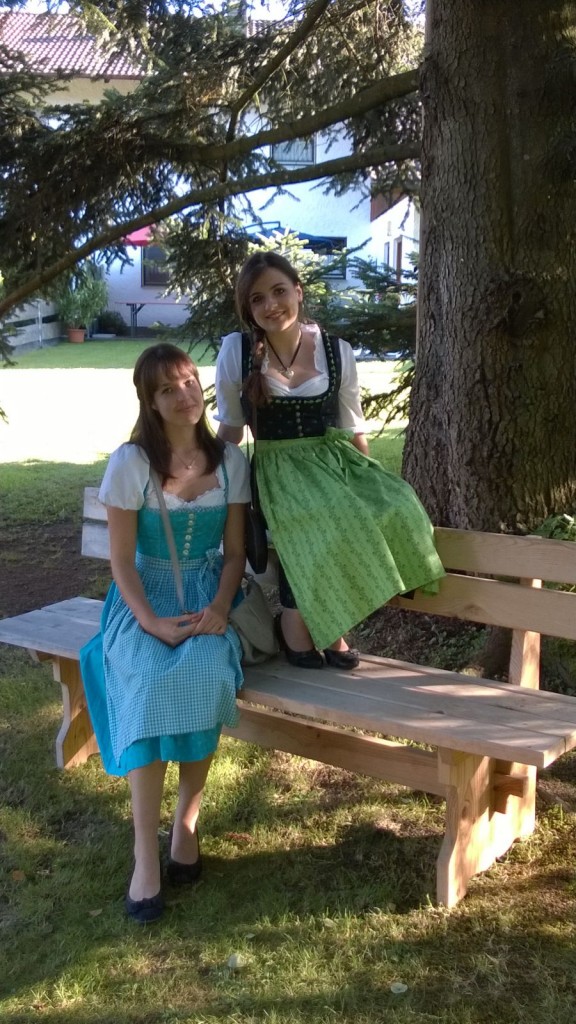 What's the first thing that comes to your mind when you think of Munich?
Probably the Oktoberfest, Sauerkraut and Lederhosen.
But if you go a bit further to the south, you will find the employees of Airbus Defence & Space. We, Verena and Daniela, are two of them, and we made our long way from Germany to the U.S. in order to support one of the European Space Agency's contributions to the James Webb Space Telescope (JWST) project, the Near Infrared Spectrometer (NIRSpec) instrument.
Besides our passion for the universe and aviation, we are also interested in languages and economics. This is why we both decided to start training as European Management Assistants at Airbus Defence & Space after graduating from High School.
This special program combines attending college and gaining work experience in different Airbus departments. Besides participating in business studies classes, accounting, maths, and foreign trade there is also a special focus set on learning and improving languages skills.
Daniela:
Throughout my first year at Airbus I got to know different areas of work and that's where I realized that I love to be surrounded by people, as well as working for and with them. Besides event management, I'm interested in public relations and project management. The space industry attracts me so much because I'm fascinated by the "unknown." Searching for the "unknown," as well as exploring it and helping earth and its habitants to benefit from it, is more than exciting, I think it's humanity's mission.
In my free time I enjoy travelling around the world with my backpack. I love getting to know other cultures and languages as well as the feeling of being free but never lost. Music is my real passion, and playing the guitar and going to festivals, are some of my favorite activities. Coaching young students in subjects like English, Latin and French is something that is also important to me. When you spot me running around a table, don't worry – I'm probably playing ping pong!
Verena:
After gathering some experiences in personal assistance, HR International, project assistance and Brand Communications, I liked the idea of working in a project team. The international environment, the proximity to the companies' products, seeing the project growing day by day, and the varied tasks attract me to that field.
I'm not only fascinated by the process of launching a space vehicle – from the concept to the construction – but also thrilled by the benefits for mankind that space missions have.
The forward movement (in actions, thoughts, and perspectives) that I see in the space industry is what attracted me to it. The chance of getting to know about so many different fields within, such as satellites, rockets, missions, etc., is another thing that contributed to my decision to join this division with Airbus.
When not traveling around – preferably in Eastern and South Europe – I love spending time with my friends, exploring Munich and its surrounding area. You will find me at cultural events like concerts, or different kinds of festivals (I prefer the food kind). But I don't only like dining at food trucks or fancy restaurants, I also love to try new recipes, especially vegan ones.
Water is my element – when I dive into it, I can forget the world around me! Back on the ground, I'm passionate about playing a demanding badminton match with my friends – challenge accepted?!
Both of us:
Fighting for our big dream – being interns at NASA – has finally paid off. The space industries' idea of acting for the future – personally and professionally – is one of our main goals. For the following six weeks we hope to get to know as much as possible about NASA's people, projects and products.
As well as doing administrative tasks for the project teams, we'll contribute to JWST's outreach work.
While gathering impressions and experiences at GSFC, we intend to bring what we learn home, to benefit our daily working life back in Germany.
Saying it plain and simple: We are really looking forward to participating in the JWST's unique journey "to go back in time."
---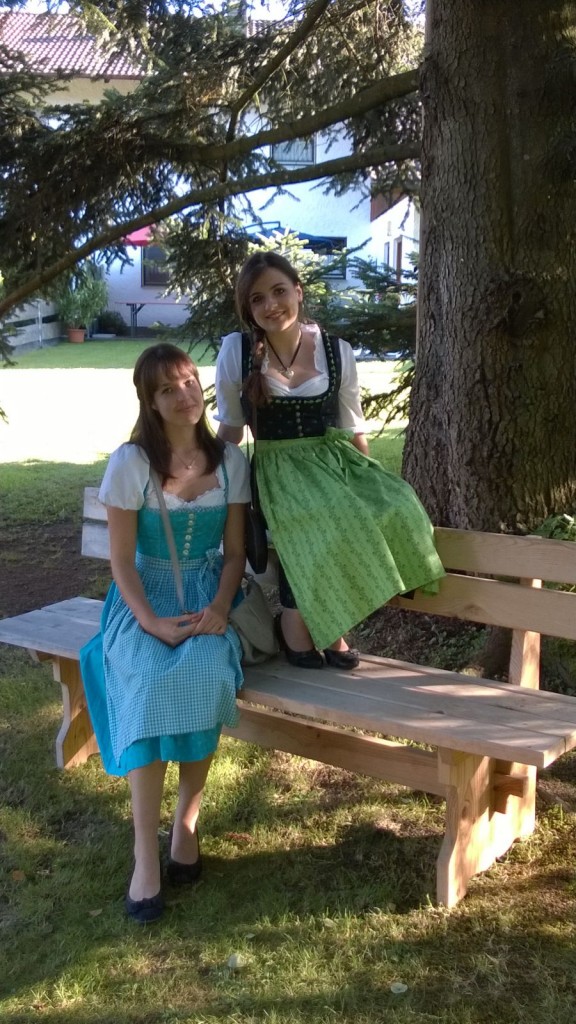 Normalerweise werden mit dem Gedanken an München das Oktoberfest, Sauerkraut und Lederhosen verbunden.
Doch südlich der Stadt trifft man auf Menschen, die nicht nur die Leidenschaft für die Vorzüge der bayrischen Kultur, sondern auch für die Raumfahrt teilen. Richtig, es handelt sich hierbei um die Mitarbeiter von Airbus Defence & Space!
Wir, Verena und Daniela, sind zwei Auszubildende von Airbus DS und haben uns auf den weiten Weg nach Washington D.C. gemacht, um ESA's Beitrag am James Webb Space Telescope (JWST)-Projekt, das Near-Infrared-Spectrometer (NirSpec), zu unterstützen.
Unsere Ausbildung zur Europaassistentin in diesem Unternehmen vereinbart sowohl unsere Faszination für das Universum und das Fliegen, als auch unser Interesse für Fremdsprachen und betriebswirtschaftliche Themengebiete.
Daniela:
"Während meinem ersten Jahr bei Airbus habe ich viele verschiedene Arbeitsbereiche kennengelernt. Ich liebe es von Menschen umgeben zu sein sowie für sie und mit ihnen zu arbeiten. Neben Event-Management interessiere ich mich vor allem für Öffentlichkeitsarbeit und Projektmanagement.
Ich bin vor allem wegen des "Unbekannten" so fasziniert von der Raumfahrtindustrie. Meiner Meinung nach ist die Suche und das Erforschen des "Unbekannten", sowie der daraus resultierende Nutzen für die Erde und seine Bewohner, mehr als nur spannend – es ist die Mission des Menschen.
In meiner Freizeit reise ich mit meinem Rucksack um die Welt. Ich lerne gerne andere Kulturen und Sprachen kennen und liebe das Gefühl frei, aber nie verloren zu sein.
Musik lässt mein Herz höher schlagen – deshalb zählen zu meinen Hobbies Gitarrespielen und Festivalbesuche.
Außerdem gebe ich jüngeren Schülern Nachhilfe in Fächern wie Englisch, Latein und Französisch.
Und wenn ihr mal von einem kleinen Ball getroffen werdet, keine Sorge! Beim Tischtennis wird von mir keiner verschont."
Verena:
"Ich durfte bei Airbus DS bereits Erfahrungen in der persönlichen und Projektassistenz, internationalem Personalwesen und im Marketingbereich sammeln. Dabei hat mir besonders die Arbeit im Projekt gefallen, weshalb ich mir durchaus vorstellen kann, mich später in diese Richtung zu entwickeln. Die Arbeit in einem internationalen Umfeld, die Nähe zum Produkt und die Weiterentwicklung des Projekts Tag für Tag zu erleben zu können, machen die Arbeit in einem Projektteam für mich so spannend.
Neben des gesamten Launching-Prozesses eines Produkts, von der Idee bis zum Bau, fasziniert mich vor allem auch der langfristige Nutzen von Weltraummissionen für die Menschheit.
Es gibt einige Gründe, weshalb ich mich dazu entschieden habe, in der Luft- und Raumfahrtbranche zu arbeiten. Zum einen die Aussicht auf ständige (Weiter-) Entwicklung, was jeglichen Stillstand (im Handeln, Denkmustern und in Perspektiven) im Keim erstickt. Zum anderen reizt mich auch die Vielseitigkeit der Luft- und Raumfahrt und damit die Möglichkeit, viele verschiedene Bereiche wie etwa Raketen, Satelliten, Programme kennenzulernen.
In meiner Freizeit liebe ich es zu reisen, besonders nach Ost- und auch Südeuropa. Zurück in München, verbringe ich gerne Zeit mit meinen Freunden. Zusammen entdecken und schätzen wir die Vielseitigkeit der Landeshauptstadt und des Umlands. Außerdem besuche ich auch gerne diverse Veranstaltungen, seien es Konzerte oder auch kulturelle Festivals. Ich bin nicht nur Fan von Foodtrucks und außergewöhnlichen Restaurants, sondern probiere auch gerne neue – bevorzugt vegane – Rezepte aus.
Als passionierte Schwimmerin liebe ich es, am und vor allem im Wasser zu sein. Gerne fordere ich meine Freunde auch mal zu einem Badminton-Match heraus. Vorsicht, starke Rückhand!"
Beide:
Wir haben für unseren großen Traum gekämpft, ein Praktikum bei der NASA absolvieren zu können. Der Grundgedanke der Raumfahrtindustrie, die Zukunft aktiv mitzugestalten, ist eines unserer angestrebten Ziele.
Für die kommenden sechs Wochen wünschen wir uns interessante Begegnungen sowie Einblicke in diverse Projekte und Produkte der NASA.
Neben administrativen Tätigkeiten für die verschieden Teams werden wir auch die Öffentlichkeits- und Aufklärungsarbeit von JWST unterstützen.
Außerdem wollen wir durch die gesammelten Eindrücke und Erfahrungen bei GSFC über uns hinauswachsen und dadurch im Alltags- sowie Berufsleben davon profitieren.
Kurz und knapp: Wir freuen uns sehr darauf, die einzigartige Reise des JWST eine Zeitlang zu begleiten und gemeinsam "back in time" zu gehen.