October 8, 2014
Comments Off

on "Transforming" STEM Education
We've posted in the past about the Real World/In World Engineering Design Challenge. The James Webb Space Telescope has been a foundational partner since the challenge's start in 2010. This year, RWIW merges with the NASA OPTIMUS PRIME Spinoff Challenge to add an InWorld component to this video challenge.
If you've got kids in elementary, middle, and high school – or are a college student – or a teacher, then this may be for you!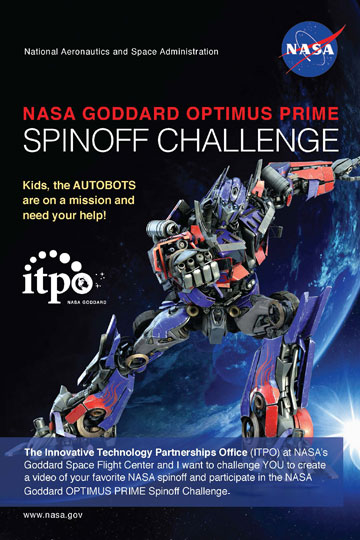 The video challenge is open to students in grades 3 through 12, whom are requested to create and submit a video describing their favorite NASA Goddard spinoff and to create their own spinoff use for that technology. Spinoffs are technologies originally created for space and modified into everyday products used on Earth like aircraft anti-icing systems, and water filters. Video submissions must be posted by January 12, 2015.
All videos will be available for public voting from February 15 to March 16. Videos will be posted in the categories of Elementary, Middle and High school students.
Grades 3, 4, 5 participate in the video segment of the contest only.
Videos submitted by students in grades 6 through 12 will be judged for inclusion in the InWorld Challenge. In that challenge, students create 3D computer models of the spinoffs and their own spinoff ideas in a multi-user, virtual environment. These student teams are paired with college science or engineering students who mentor them through the design of these innovations and models.
Students who choose to participate in the InWorld Challenge must select from one of these Webb telescope spinoffs:
-Telescope Innovations Improve Speed
-Accuracy of Eye Surgery (Health and Medicine)
-Interferometers Sharpen Measurements for Better Telescopes (Industrial Productivity).
Guidelines are available on the Optimus Prime website.
Winners will be announced in May, 2015. Winning students from each grade category will be invited to Goddard to participate in a behind-the-scenes workshop and VIP awards ceremony.
More information about the challenge.
Registration is NOW OPEN for students (grades 3-12 for the Video Challenge and grades 6-12 for the InWorld Challenge) and college mentors.