May 20, 2010
Comments Off

on Podcast: In the AstroZone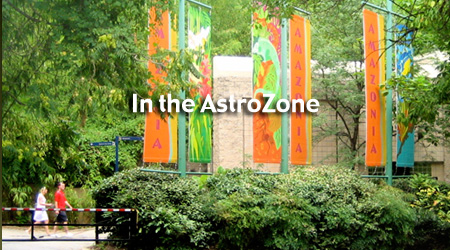 Click to listen! (8MB MP3, right-click to save)
Transcript (Text, PDF)
Wouldn't it be exciting to do astronomy in the Amazon, surrounded by the wild plants and animals of the rainforest?  In January, visitors to the AstroZone event in Washington, DC, got to do something like that – they met dozens of astronomy professionals at the National Zoo's Amazonia exhibit!  AstroZone is a special public event that's offered in conjunction with each meeting of the American Astronomical Society (the major professional organization for astronomers).  For one afternoon, astronomers share their passion for the Universe with the local public with hands-on activities, goodies, and other special opportunities.
We talked to some of the exhibitors at the event in DC, and we wanted to share their exciting science with you.  The next AstroZone event is this weekend in Miami, Florida – if that's your hometown, come check it out at the Miami Dade Main Public Library on May 22nd!

More About AstroZone
AstroZone is held twice a year, coordinated with the summer and winter meetings of the American Astronomical Society. Learn more about these events, past and present:
About the Exhibitors
We interviewed a few folks working at the event in Washington, DC.  Find out more about their projects:
Astronomy Cast – an astronomy podcast hosted by Pamela Gay and Fraser Cain.
Thirty Meter Telescope – a powerful ground-based optical telescope currently being designed, scheduled for completion in 2018.
Chandra X-ray Observatory – one of NASA's Great Observatories, Chandra observes exciting objects and events in the Universe in x-ray wavelengths.
Credits:
Host
Sara Mitchell
Guests
Pamela Gay
Charles Blue
Dillon Foight
Interviewer
Francis Reddy
Editor
Francis Reddy
Sara Mitchell
Theme Music
Naked Singularity
Transcript
Francis Reddy
Sara Mitchell
Website Support
Meredith Gibb
Maggie Masetti
Producer
Sara Mitchell
Responsible NASA Official
Alan Smale
Amazon bird chorus provided by The Macaulay Library of Natural Sounds at the Cornell Lab of Ornithology, Ithaca, New York.
Featured Image for this podcast by mvjantzen.