August 31, 2009
Comments Off

on Podcast: The Science of Pretty Pictures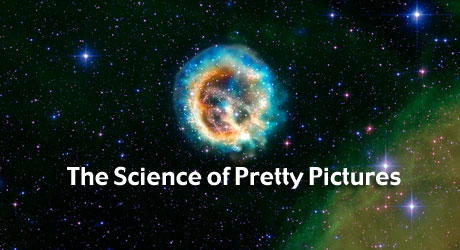 Earlier this summer, Nobel Laureate Dr. John Mather told us that data are beautiful when they have meaning.  Astronomical images communicate information about the way the Universe works and how we know what we know.  But can a pretty picture be just as lovely even if you don't know what it's about?  
We interviewed Dr. Randall Smith of the Harvard-Smithsonian Center for Astrophysics, a collaborator on the Aesthetics & Astronomy project that is looking into how the public perceives multi-wavelength astronomical imagery.  A team of scientists, educators, and psychologists are examining the intersection of science and art in the processing of astronomical data.  In this conclusion to our summer series on data, Dr. Smith shares some surprising early results from the project that may change the way we communicate with images.
Click to listen! (7MB MP3, right-click to save)
Transcript (Text, PDF)
About the Episode
The Aesthetics & Astronomy project collaborates with the Astronomy Picture of the Day website. If you haven't heard of this site (and we'd be surprised if you haven't!), it is updated with a new astronomical picture of interest each day, accompanied by a paragraph written by a professional astronomer.
You might also enjoy galleries from some of NASA's Great Observatories:
Host
Sara Mitchell
Interviewer
Anita Krishnamurthi
Guest
Randall Smith
Editor
Sara Mitchell
Theme Music
Naked Singularity
Transcript
Eric Winter
Maggie Masetti
Website Support
Meredith Gibb
Maggie Masetti
Producer
Sara Mitchell
Executive Producer
Anita Krishnamurthi
Responsible NASA Official
Kim Weaver
The above image of E0102-72.3 is credit: NASA/CXC/SAO