July 17, 2009
Comments Off

on Podcast: Blueshift Goes to the Movies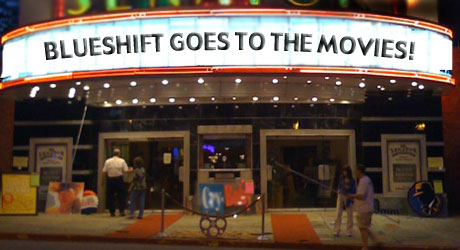 Click to listen! (6MB MP3, right-click to save)
Transcript (Text, PDF)
It's summertime, which means that Hollywood is releasing a bunch of long-awaited, big-budget blockbusters!  You can cool off in the theater with action, adventure, and… astronomy?  Space science has been written into a variety of films – from the predictable genre of science fiction to romance, drama, and comedy.  But do these movies get it right?  Occasionally, but many movies have astronomers and other space-savvy members of the audience gritting their teeth and groaning at the misconceptions and misrepresentations upon the big screen.  
We took our microphone into the hallways and offices of the Astrophysics Science Division and asked: What's your pet peeve about astronomy in the movies?  The opinions included represent that of the individuals we interviewed, and not Blueshift or NASA.  Sound off on our website or Twitter about astronomy movies that drive you crazy!
Astronomy on the Big Screen:
In this episode, we discussed the ways that astronomy is (mis)represented in films – sound in space, planetary alignments, skewed perspectives, and more.  We're not the only people who can't stand the bad science.  Here are some other sites to check out:
Bad Astronomy: Bad Movies – Astronomer Phil Plait is also passionate about fact and fiction in Hollywood movies. He's compiled information about some of the biggest offenders, and shares some good movies, too.
Insultingly Stupid Movie Physics – Our interviewees were also vocal about bad physics in the movies, even if it doesn't happen in space. This site reviews specific films and explores some common inaccuracies that pop up in multiple movies.
Host
Maggie Masetti
Interviewers
Maggie Masetti
Sara Mitchell
Editors
Maggie Masetti
Sara Mitchell
Guests
Derek Fertig
Brendan Perry
Tommy Nelson
Laura Brenneman
Eric Winter
Peter Hall
Theme Music
Naked Singularity
Additional Music
Kevin MacLeod
Transcript
Maggie Masetti
Website Support
Meredith Gibb
Maggie Masetti
Producer
Sara Mitchell
Executive Producer
Anita Krishnamurthi
Responsible NASA Official
Kim Weaver