TIGER in Antarctica
November 19, 2001
A Climb up Observation Hill
Observation Hill is one of the walks you can take without having attended the Safety Outdoor Lecture (SOL). Although I've been to Happy Camper School, I have to also go to SOL before I can take any of the longer hikes. Ob Hill is a steep 228 meter (747 feet) cone-shaped rise right next to town.
Photo on right: Observation Hill
Heading up the steep switchback, it quickly becomes obvious that this is more of a scramble than a walk. The ground is very loose volcanic gravel and despite the fact that I have a pair of very good hiking boots, it is very slippery. Part way up is a road and a couple of buildings. There is a long, easy way to get to this point, but what fun would that be? It is a good place to take a break, however.
Then continue on up. The trail is all crumbly black and red igneous rocks, and the occasional patch of snow is actually better traction than the rock in many places. I take another rest leaning against a razorback ridge of old lava trying to get out of the wind. Then onwards.
Photo on left: The climb
Up at the top, and miraculously, the wind has died down and it is calm as could be. I just sit here for about 20 minutes taking in the sights. There is another memorial cross up here, and this is an important one. This is the one that the surviving members of the Scott expedition put up in 1913 after Scott and four others died returning from the pole in 1912, after having been just beaten to the pole by Amundsen.
Photo on right: Cross at the top of Ob Hill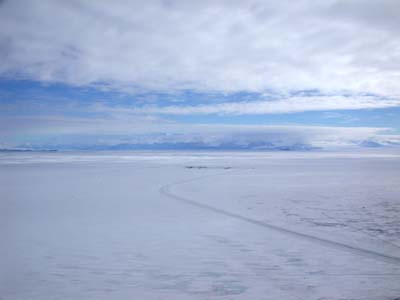 You can also see the ice runway, where my C-141 landed, quite clearly in the distance, across the ice shelf. Another six weeks and there may be open water there. I wish I had brought my binoculars, but it is quite enjoyable even without them.
Photo on left: The ice runway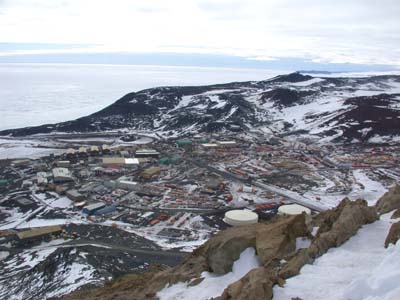 This is also a good place to get an overview of McMurdo. The road heading down to the right, past the oil tanks, is the road to Scott base and Willy Field.
Photo on right: Looking down on McMurdo
Dr. Eric R. Christian
Eric's Featured Scientist Profile
This page was last modified on December 19, 2002