TIGER in Antarctica
November 12, 2001
An evening hike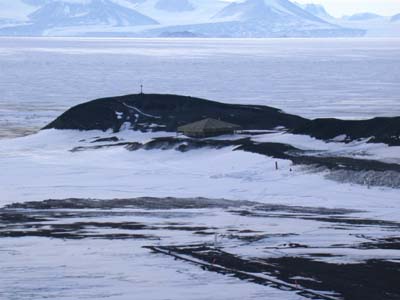 Monday is a typical work day. We have some very delicate pieces of the instrument that are made of a special material called aerogel. Aerogel is a very light weight glass that is very fragile and it was shipped separately from the instrument. We'll be installing it in the instrument later in the week, but I open up the double boxed shipping container to make sure that everything survived. All six pieces of aerogel are fine, and we only need four for flight. I'll take some pictures of us installing them later this week.
Photo on right: Looking out of my dormitory towards Hut Point
After dinner, the evening is so nice that I decide to walk out to the end of Hut Point, which is the end of the peninsula that McMurdo sits on. From the back of my dormitory, I can see a historical hut and a memorial cross at the point. It's a nice level walk along a road that leads past the ice pier, where they'll bring in ships towards the end of summer when open water makes its way all the way to McMurdo.
Photo on left: Memorial Cross at Hut Point
The hut was built in 1902 by the first Scott expedition, not his ill-fated 1912 trip to the South Pole. It is an International Historical Site and is truly part of the history of Antarctica. The memorial cross up on the hill was put there by the 1902 expedition to honor one of the crew of the ship "Discovery" who drowned here at the point.
From the point there is a nice view of McMurdo Station behind Scott's Hut. My dormitory is the third tan two-story building from the left. The building is also known as Shackleton's Hut. I'm finding out that everything has a nickname in this place. However, it's a considerable step up from the small hut that Scott's expedition huddled in to stay warm.
Photo on right: Scott's Hut with McMurdo Station behind it
Tomorrow, I get to find out what it's like to be cold. I'm going to Snowcraft I, better known as "Happy Camper's School".
Dr. Eric R. Christian
Eric's Featured Scientist Profile
This page was last modified on December 19, 2002