TIGER in Antarctica, November 25, 2003
Birthday and Tracer Hang Test
Today was my birthday here (it's not until tomorrow in the states). My wife and kids sent me some birthday pictures, which I really appreciated. Here's the one of my two kids: Stephen (10) and Lyta (4). Antarctica is nice, but it will be good to get home to the family.

Emailed Happy Birthday from my kids
We continued buttoning up TIGER. Outside the electrostatic shield (described earlier), we need a thermal shield. This is about 4 inches of hard foam. It needs to fit inside all the frame and brackets of TIGER, so it takes a while for Dana to cut it to the right shape. Here he is fitting one of the side panels into the TIGER frame outside the black electrostatic shield.
Dana installing the TIGER Thermal Shield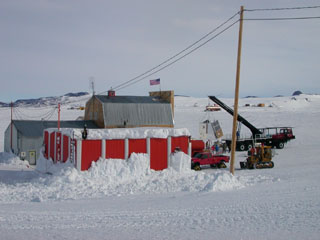 We couldn't do any real testing of the TIGER payload because the other instrument that is down here to be launched, TRACER is doing their hang test. The hang test is one of the final steps before declaring that a payload is "flight ready". It requires that everything be pretty well buttoned up. One of the purposes is to get a true weight of the payload.
The Tracer Hang Test
But the main reason for the hang test is to check that everything is working. This means checking the science payload, the communications with the ground systems (called the Line-of-Sight system or LOS), the satellite communications (mostly uses a TDRSS satellite when the balloon is below the horizon at McMurdo), the power systems (solar arrays and/or batteries). Things went well for TRACER, although there were a few glitches. They had planned on taping up the edges of some thermal panels just before flight (they need access behind the panels fairly late in the game), but in this temperature the tape was hard and didn't stick. Before flight, they are going to make some sheet metal corners to hold the edges and use them instead of tape. TIGER may have a similar problem.

This is the first time "The Boss", NSBF's new launch vehicle has picked up a payload, but it works great. They drive out away from the Pig Barn with TRACER to see how it handles with the science package and to get a better test of the communications.




The Tracer Hang Test

In the evening, a bunch of us from TIGER and Anita go to the coffee house/wine bar to celebrate my birthday and an Anita success. It looks as if Anita has fixed its problematic power system, with the help of the TIGER Electrical Engineer, Paul Dowkontt. That's a big step towards them being ready for our hang test, which should be next week.

Dr. Eric R. Christian
NASA HQ Code SS
Washington, DC 20546 USA
This page was last modified on November 27, 2003