TIGER in Antarctica, November 23, 2003
A Penguin!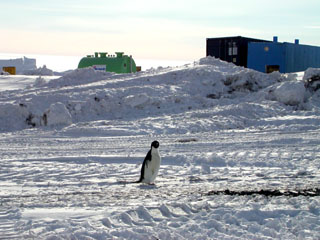 We've given Lauren, Dana, and Garry the day off, but the Anita team is heading out to Willy and Bob Binns and I go with them. On the drive out there, we go right past Scott Base, the New Zealand Station (see The Road to Willy web page). They are right by the area where the ice shelf is moving into the island, causing ripples and large vertical uplifting of the ice. This is one of the earliest places to get open "leads" of water, and where we first saw seals two years ago.

An Adelie Penguin by Scott's Base
This morning I let out a cry of "Stop The Van!! A penguin!". I had seen it waddling along the broken up ice alongside the road. We all pile out and get good pictures. The penguin knew we were there, but we didn't get too close and I think didn't bother it. It certainly had the opportunity to walk off and we wouldn't have followed it.
I've got some closeups that I took with the camera on full telephoto on the wildlife web page.
Eric with an Adelie Penguin

Dr. Eric R. Christian
NASA HQ Code SS
Washington, DC 20546 USA
This page was last modified on November 23, 2003