This year TIGER is in a temporary aluminum frame and canvas building called a weatherport. Two years ago we were in the more permanent building that is called the Pig Barn. Here is a picture of the two buildings with the Pig Barn on the left. The weatherport is smaller and definitely not as comfortable, but it will do.
The Pig Barn and Weatherport at Willy Field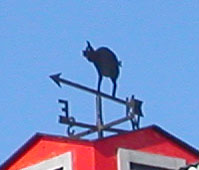 The Pig Barn got its name because of a Pig Weathervane, it's not a comment on anything here or anyone who worked here. It's sitting at least 15 feet below the average level of the ice shelf, but bulldozers have dug a large crater so that it gradually slopes to the Pig Barn on all sides. This sinking of buildings always happens when you build on snow and ice and is due to a combination of built up new snow and the thermal energy of the building melting the snow immediately below it. The Pig Barn has been here for a number of years.
The same thing is happening at the dome at South Pole Station. They are building a new South Pole Station that will replace the dome. It stands above the snow on legs that can have extra segments added to keep the station above the snow and ice.
The Pig Weathervane on the Pig Barn

We're setting up to run some telemetry tests with TIGER in the morning, but this afternoon, all three of the other TIGER people here (Dana Braun, Garry Simburger, and Lauren Scott) have to do a Field Safety refresher course. We don't have to do Happy Camper School again. There's no room for me today, I'll do the refresher course next week. But I head back into town anyway to work on this journal, get to the store, and do a few other things.
The Weatherport at Willy field