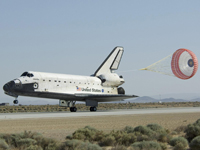 Atlantis Lands in California
Sun, 24 May 2009 11:52:36 AM EDT
Following two days of delays due to poor weather conditions at the Kennedy Space Center in Florida, NASA diverts landing of STS-125 space shuttle Atlantis to its backup site, Edwards Air Force Base in California, culminating the highly successful Hubble Space Telescope Final Servicing Mission.
+ View Video of Atlantis' Landing
STS-125/SM4 Landing:
Landed: Sunday, May 24, 2009, 11:39 a.m. EDT
Landing Site: Edwards Air Force Base

Mission Elapsed Time:
12 days, 21 hours, 37 minutes, 9 seconds

Official Landing Times
Main gear touchdown: 11:39:05 a.m. EDT
Nose gear touchdown: 11:39:15 a.m. EDT
Wheels stop: 11:40:15 a.m. EDT
Total miles: 5.276 million
+ View STS-125 Landing Multimedia
The STS-125 mission was the 126th shuttle flight, the 30th for Atlantis and the second of five planned for 2009. Atlantis' landing at Edwards was the 53rd shuttle landing to occur at the desert air base.
Landing at Edwards means the shuttle will have to take a piggyback ride on NASA's Shuttle Carrier Aircraft (SCA) for its return trip to Kennedy. + Read More

---
Landing Attempts Waved Off
Fri, 22 May 2009 08:00:02 AM EDT
STS-125 Entry Flight Director Norm Knight has waved off today's landing attempts at Kennedy Space Center in Florida due to weather conditions. The next attempt will be made on Saturday at 9:16a.m. EDT at Kennedy
Saturday Landing Opportunities
9:15am
Orbit 180 landing at Kennedy
(deorbit burn 8:01am)
10:45am
Orbit 181 landing at Edwards
(deorbit burn 9:29am)
10:54am
Orbit 181 landing at Kennedy
(deorbit burn 9:45am)
12:23pm
Orbit 182 landing at Edwards
(deorbit burn 11:11am)
12:33pm
Orbit 182 landing at Kennedy
(deorbit burn 11:29am)
2:02pm
Orbit 183 landing at Edwards
(deorbit burn 12:55pm)
Sunday Landing Opportunities
10:02am
Orbit 196 landing at Kennedy
(deorbit burn at 8:43am)
10:04am
Orbit 196 landing at Edwards
(deorbit burn at 8:46am)
10:11am
Orbit 196 landing at Kennedy
(deorbit burn at 8:58am)
11:40am
Orbit 197 landing at Edwards
(deorbit burn at 10:25am)
11:43am
Orbit 197 landing at Kennedy
(deorbit burn at 10:30am)
11:49am
Orbit 197 landing at Edwards
(deorbit burn at 10:43am)
Timeline for 1st KSC Opportunity
1:01 am Crew wakeup
3:00 am Entry Team on console
3:56 am Weather Briefing
4:00 am Deorbit Prep begins
4:30 am T-38 weather recon (Chief astronaut Steve Lindsey)
5:22 am Payload Bay Door closing
5:32 am MCC-H "Go" for Ops 3 software transition
6:22 am Shuttle Training Aircraft weather recon (Lindsey)
6:38 am Suit up
7:00 am Seat ingress
7:16 am Orbital maneuvering System engine gimbal checks
7:26 am Auxiliary Power Unit prestart
7:40 am MCC-H "Go-No Go" for the deorbit burn
7:54 am Maneuver to the deorbit burn attitude
8:01 am Deorbit Burn (duration 2:34, delta V 256 fps)
9:03 am Merritt Island tracking station AOS from Atlantis
9:15 am Landing (180 orbits, 4,829,211 statute miles)
---
Where to Land the Shuttle - Although NASA's Kennedy Space Center is the primary land site for the Space Shuttle, two alternate landing sites are available, if needed. + Read more
---
Landing 101 - Learn what happens at the landing site in the hours, minutes, and seconds before a landing. + Read more