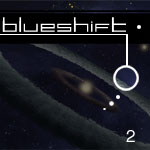 Click to listen! (18MB MP3, right-click to save)
Transcript (Text, PDF)
Welcome to the May 2007 episode of Blueshift, from NASA Goddard Space Flight Center. We'll discuss our search for Earth-like planets outside of our own Solar System. We'll also look into gamma ray bursts, and how the Swift satellite team is working to solve their mysteries. This episode includes a brain teaser and mailbag question.
Introduction (0:00 – 1:20)
Brain Teaser (1:21 – 2:12)
Interview: Jennifer Wiseman and the Search for Other Worlds (2:13 – 8:11)
We're finding new planets almost every day – find out what's out there and how we're finding them.
Featured Story: Solving the Puzzles of Gamma-Ray Bursts (8:12 – 14:26)
These mysterious events have had scientists asking questions for years, but now we have some answers.
Mailbag: What kind of rays are cosmic rays? (14:27 – 17:40)
Get the facts on these fast-moving particles… and old movies.
James Webb Space Telescope story update (17:41 – 18:17)
New information about the story featured in Episode 1.
Brain Teaser – Answer (18:18 – 19:06)
Closing (19:07 – 20:00)
The Search for Other Worlds
In our interview with Jennifer Wiseman, we heard about the technology and methods behind the discovery of other planets outside of our solar system. For more information about these discoveries, visit:
Solving the Puzzles of Gamma-Ray Bursts
The Swift satellite is regularly detecting gamma-ray bursts all over the Universe, powerful events of great interest to astronomers. To find out more about Swift and gamma-ray bursts, take a look at these sites:
Credits:
Hosts
Steve Fantasia
Maggie Masetti
Trivia Master
Louis Barbier
Interview with Jennifer Wiseman
Anita Krishnamurthi
Featured Story
Ilana Harrus
Mailbag
Beth Barbier
Jim Lochner
Guests
Neil Gehrels
Jennifer Wiseman
Theme Music
Naked Singularity
Other Music
Outta Scope
Editors
Ilana Harrus
Anita Krishnamurthi
Sara Mitchell
Producer
Sara Mitchell
Executive Producer
Anita Krishnamurthi
Responsible NASA Official
Kim Weaver